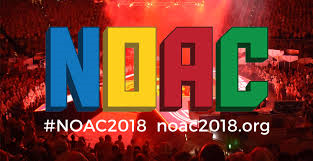 2018 NOAC
National Order of the Arrow Conference
Indiana University, Bloomington, IN
July 30, 2018 through August 4, 2018

Slots are still available.   Please sign up now to get your seat.  The 2018 National Order of the Arrow Conference (NOAC) will be held at Indiana University in Bloomington, IN from July 30th to August 4th, 2018.  NOAC brings countless opportunities for Arrowmen to learn best practices to bring back to our lodge, participate in training, and most importantly… to HAVE FUN! There are exciting games, sports, nightly shows, and all sorts of other activities for Arrowmen to experience. 
We are expecting to have a large number of interested members from Nawakwa Lodge wanting to attend NOAC 2018.  To begin, our lodge has received a modest number of slots for the Conference.  NOAC has instituted a strict 3:1 youth to adult ratio for all lodges nationwide.  The number of delegates allowed is also set by NOAC. For NOAC 2018, Nawakwa Lodge has an allocation of 36 participants, or 27 youth and 9 adults.  Note that NOAC staff members register separately and their numbers do not affect our lodge quota. 
So with such a small quota of adult slots, lodge leadership will review all applications, select both youth and adult participants through an equitable selection process involving the review of each application.  While we sincerely wish that we could take everyone who is interested, we must work within our given allocation.  A waiting list will be compiled for those youth and adult members who are not initially selected should a slot open up or the lodge be grated additional slots.  The goal of the selection process is to ensure the youth and adult delegates selected are those that can best serve the Nawakwa Lodge contingent and the lodge upon returning home with new skills and resources.
Please complete the Nawakwa Lodge 3 NOAC 2018 Contingent Participant Application.  This application will help us select the youth and adults who can contribute and serve the contingent during NOAC and the lodge after NOAC with their skills and resources.  Answer all of the questions as completely as possible and click the submit button at the end of the application when you are complete. You will receive a copy of your submission by email when you have successfully completed the form.
The total cost for Nawakwa Lodge NOAC Contingent participants is expected to be between $900.00-$950.00 including National's NOAC fee, transportation, lodging food and contingent swag.  Currently, the Nawakwa NOAC Contingent plans to leave Cub Adventure Camp very early Sunday morning July 29th, stop at Kings Island Amusement Park in Mason, OH for a day of fun on the way to NOAC, and return the night of August 4th.
A non-refundable deposit of $100 will be due within one week of the date you are notified of selection.  Should your deposit not be paid within that time period then your delegate slot will be forfeited.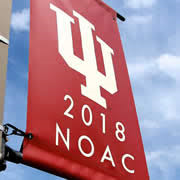 The committee will also be putting together plans to raise funds to reduce the cost for youth participants. The final cost to each participant will be determined prior to the event after fundraising has been completed and trip logistics are finalized. Your $100.00 deposit will then be credited toward any future balance. If a deposit is submitted and you are unable to join our contingent, then any money paid will be refunded.
If you have any questions, please contact:
Phil Victor
2018 NOAC Contingent Adviser
This email address is being protected from spambots. You need JavaScript enabled to view it.